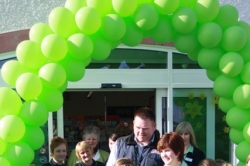 Competition Winners Cutting The Ribbon
Click image to enlarge
The Lattimer Group was proud to attend the official opening of the magnificent new Co-operative Food Store, which we built in Dalston near Carlisle.
The store's special design had been approved by English Heritage because the building is within the village's local conservation area. Natural local stone and traditional slate were among the materials used. The building also contains three superb rented residential properties.
Three pupils from the local junior school performed the ceremonial ribbon-cutting. Rosa Arnold, aged five, Alfie Turnbull, eight, and Hannah Allen, 11, had won a competition organised by the Lattimer Group via St Michael's Church of England Primary School to design posters promoting safety on building sites.
Eight new jobs have been created at the 3,000 sq mt store in addition to 20 staff who transferred there from the smaller old Co-op across the road.
The whole project cost around £3 million, including land purchase, construction and fitting out of the store. The building, including the rented homes, are owned by the Lattimer Group, with the store being leased to the Co-op.
Director George Lattimer, who attended the opening ceremony with building manager Tony Young, said: "It was brilliant to see so many local people there, saying so many nice things about the building and how pleased they are with it.".
The Lattimer Group has plans to develop the old Co-op store in Dalston by converting it in residential properties and a commercial unit.
Date added - 30th March, 2012