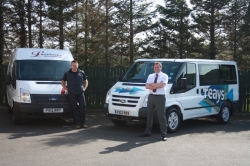 George Lattimer & Chris Reay
Click image to enlarge
We were thrilled to be a winner in the Daily Telegraph British Homes BuildQuality Awards in London in February because of the excellence of our Midcroft Court development at Dean near Cockernouth.
This came after director George Lattimer was named the best site manager in Britain for a record eighth time in the National House-Building Council's annual Pride in the Job awards on the strength of our Sheila Fell Close development in Aspatria.
George's cousin Chris Reay made it a remarkable double national triumph for the family with his business - Reays Coaches - being named Top Independent Operator at the UK Bus Awards in London after the success of its City Hopper public service in Carlisle.
George said: "It is quite something for a couple of Cumbrian cousins to pick up two national awards in our respective industries of construction and transport, which are both highly competitive fields. Chris and I are pretty close and our businesses are only a few miles apart. I'm sure he'd join me in stressing that our success is due to all the hard work and commitment of all our staff."
Date added - 4th May, 2012