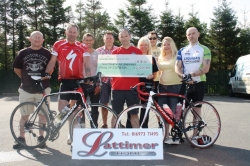 From the left: Philip Lightfoot, Neil Graham, Gary Thwaite, George Lattimer, Steve Graham, Lorna Barwise, Matthew Scott, Hannah Sherlock and Andrew Simpson. Rider Peter Hill is missing from the photo
Click image to enlarge
Lattimer Homes was proud to be the main sponsors of a team of Cumbrian cyclists who raised thousands of pounds for two local charities by completing the famous Coast to Coast (C2C) ride twice in a day.
The eight C2C2C riders from Aspatria, Wigton and Carlisle set off from Workington and cycled to Sunderland before turning round and heading straight back to their starting point, travelling through the night despite enduring torrential rain and cold winds.
Their amazing 245-mile C2C2C trip was in aid of the Great North Air Ambulance's Pride of Cumbria helicopter and CFM's Cash for Kids charity.
Organiser Steve Graham, who was among the riders, said: "We will have raised more than £3,600 when all the money comes in. Most will be going to the air ambulance. It's a brilliant amount. I can't believe it and I'd like to thank everyone who supported us, especially our main sponsor Lattimer Homes."
Two riders - Matthew Scott and Gary Thwaite - cycled all the way, completing the trans-Pennine return journey in 22-and-a-half hours. The other cyclists either rode in relay or took breaks in the support vehicle, which followed the cyclists on a direct route from Workington-Sunderland-Workington.
The other riders were Neil Graham, Peter Hill, Philip Lightfoot, Hannah Sherlock and Andrew Simpson. Back-up was provided by drivers Simon Burns and Sam Evans, plus support team member Lorna Barwise.
George Lattimer welcomed the riders to the company's headquarters at Mealsgate near Wigton. He said: "It was an absolutely amazing effort from all of them. It's tough enough cycling the Coast to Coast in a day but to do it there and back inside 24 hours is unbelievable. A lot of money has been raised for good very good local causes and we were just glad to be able to help."
Date added - 17th August, 2012