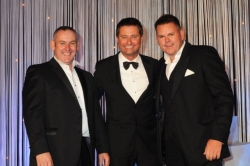 George Clarke, presenter of Channel 4's The Home Show, at the British Homes Awards flanked by George Lattimer (right) and Barry Pattinson, both from Lattimer Home
Click image to enlarge
Lattimer Homes constructed the only housing development in Cumbria to be commended at this year's British Homes Awards in London.
We were short-listed in the BuildQuality category for up to 50 properties because of the standard of our work at Sheila Fell Close in Aspatria.
Director George Lattimer picked up our commendation at a presentation dinner for all the UK finalists held at the Marriott Hotel in Grosvenor Square.
It was handed to him by George Clarke, presenter of Channel 4's The Home Show, who hosted the annual national awards. They were sponsored this year by The Sunday Times newspaper.
George said: "It was a thrill for us to reach the final again because the standard is incredibly high. We actually won this award last year with a different development at Dean near Cockermouth, so we will try to win our crown back next year."
The awards recognise build quality in construction. To be eligible for an award, developers had to complete homes on sites in 2011 which had already received industry recognition.
Date added - 28th September, 2012