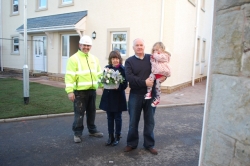 Site foreman Barry Pattinson presents a bouquet of flowers to Marie and Graham Fisher, with their three-year-old grand-child Honor, outside their new house at James Duffield Close in Workington.
Click image to enlarge
Graham and Marie Fisher became the first residents to move into our lovely new 18-home development on the site of an historic former hotel in Workington.
The couple received the keys to their three-bedroom semi-detached house at James Duffield Close off High Street, Ashfield - and were presented with a bouquet of flowers by site foreman Barry Pattinson.
Their property was the first of 14 detached or semi-detached three or four-bedroom houses to be completed in the grounds of the ex-Newlands House Hotel, which we have restored to its former glory and will convert into four beautiful new properties in 2013.
The development is named after former Mayor of Workington James Duffield, who is recognised as the founder of Workington's steel industry.
Marie said: "We knew this was where we wanted to be the moment we came here. Lattimer Homes have such a good reputation for building good houses and we are thrilled with it. Everything is to such a good high standard and the staff have been excellent and helpful."
Graham added: "It is lovely to be in here for Christmas. It is brilliant. Just right. Lattimer Homes are the best house-builders around here."
Site manager Barry said: "We are delighted that Marie and Graham are so pleased with their new home and we hope they enjoy living there. There has been tremendous interest in the site because of its history and prime location looking out to sea."
The development was to have been called Newlands Court until Lattimer Homes agreed to change the name at the request of Workington Town Council to pay tribute to steel magnate James Duffield, who died in 1915, aged 82.
The hotel, which dates back to 1879, closed in 2006. It had been owned by the Corus steel firm to provide luxury accommodation for staff and visitors to the local steelworks.
Date added - 7th December, 2012