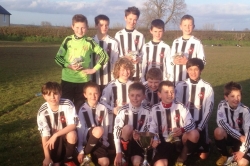 (L to R) Back: Sean Haughan, Michael Tomlinson, Finn Graham, Robbie Bell, Dan Pearson. Centre: Tom Russell, Ethan Watters, Theo Manihera. Front: Nathan Nelson, Conner Blackburn, Logan Dixon, Alex Barton & Joseph Stewart.
Click image to enlarge
Lattimer Homes are delighted to congratulate Abbeytown Under-12s on winning the 2012-13 Longhorn Youth League championship.
As the team's shirt sponsors, it has been a pleasure to share in their success this season. Well done lads!
They are pictured celebrating with the league trophy after a clinching the title with a 5-1 victory over Upperby Park Reds, courtesy of goals by Dan Pearson, Theo Manihera, Joseph Stewart, Michael Tomlinson and Nathan Nelson.
The team was undefeated in the league, winning 12 and drawing two of their 14 fixtures. They also reached the county cup final, losing 2-1 to Cleator Moor Celtic in a thrilling match at Keswick.
Date added - 30th April, 2013