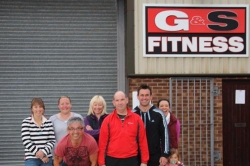 Back: Helen Young, Hannah Sherlock, Lorna Barwise, Gary Thwaite, Cath Scott. Front: Juan Martos & Stephen Graham
Click image to enlarge
Lattimer Homes are proud to sponsor the Tower 2 Tower Bike Challenge on 9th June 2013
A 500 mile bike challenge starts on the 9th of June till the the16th. Starting from Blackpool tower, the cyclists will be going through Crewe, Redditch, Swindon, Portsmouth, Le Harve, Louviers, then finishing at Paris' Eiffle Tower.
They are raising money for the pride of Cumbria Air Ambulance.
The cycling team are holding a 'Charity Night Out' at the White Heather on 7th September 2013 where all the teams sponsors will be present including Lattimer Homes; Mealsgate, D.A Harrisons; Waverton, Travis Perkins; Wigton & Workington and G&S Fitness; Wigton. the night will have live music, a raffle and a disco to raise money for the Pride of Cumbria Air Ambulance.
For Tickets to this fund raising event please contact Stephen Graham on 07533 380 918.
Or alternatively email Laura on Laura@lattimerhomes.co.uk.
Date added - 30th May, 2013