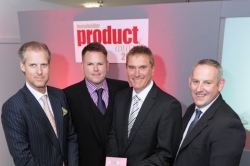 Ed Smith Former England Cricketer, George Lattimer Of Lattimer Homes, Gary Dowsett Of Wavin & Barry Pattinson Of Lattimer Homes
Click image to enlarge
Wavin's Soil and Drain pipes made using Recycore Technology was a clear winner in the Best External Product category at the Housebuilder Product Awards 2013 on 20th June 2013.
The awards focus on eight categories - Building Fabric, Internal/Interior, Services, Kitchens and Bathrooms, External, Site Product, Business and Brand New.
Former England cricketer and now author, journalist and commentator Ed Smith presented the awards at Edgbaston cricket ground, having addressed the 185 guests on management lessons from sport.
All winners and highly commended companies will go forward as finalists for the 'Product of the Year' at the Housebuilder Awards on 7 November at the Tower Hotel, London
Recycore Technology is Wavin's new and innovative technology designed to increase the use of recycled products.
Wavin's multi layer Soil and Drain pipe includes at least 50% recycled content.
This prestigious award is run by Housebuilder, HBF in association with the NHBC
Date added - 24th June, 2013