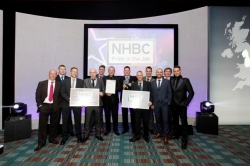 George Lattimer (centre, holding smallest trophy), celebrates with the rest of the Lattimer Homes party at last Friday's Pride in the Job regional awards
Click image to enlarge
There was only one winner from Cumbria at this year's Pride in the Job awards for the best site managers in the North West - and that was our very own George Lattimer.
The regional winners of the National House Building Council's annual PitJ awards were announced at a lunch held at the Hilton Hotel on Manchester's Deansgate.
George won the category for companies building up to 50 homes a year after judges had visited our site at James Duffield Close in Workington where we are converting the former Newlands Hotel to a prestigious development of apartments and houses.
He now goes through to the national - or Supreme - finals in London in January when he will be hoping for more success, having won the national Pride in the Job award a record eight times already.
After his latest regional title, George said: "It's getting harder every year to win because the standard is so high but we pride ourselves on the attention to detail we give to every property we build and which carries the Lattimer Homes name."
Pride in the Job is the house-building industry's most prestigious awards programme. Now in its 32nd year, it recognises the UK's best site managers.
George, who led a party of 12 from Lattimer Homes at the awards, added: "It's a total team effort and I pay tribute all our staff for their dedication and hard work. This award is shared by us all."
Date added - 25th October, 2013