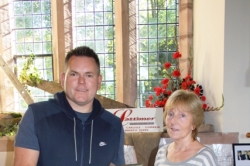 George Lattimer holds a photograph of his great, great uncle William who built the church he's standing in. With him is church council secretary Gillian Marr in front of the Lattimer family display
Click image to enlarge
At Lattimer Homes, we pride ourselves on the high standard and durability of the work we have consistently produced during many generations of our family business.
One of the most striking examples can be found at All Saints Church in Fletchertown, which was built more than a century ago by two of our highly-skilled forefathers.
Church records show the sandstone structure was completed in 1897 by Joseph Lattimer and William Lattimer, who were respectively the great grandfather and great, great uncle of current day company director George Lattimer.
The original invoices for the work show that William, who was a mason and joiner, charged the grand sum of £1,704 - plus 13 shillings and two old pence - for the project. They were signed: "I am sir, yours obediently, W Lattimer."
George has carried on the family's proud tradition for quality craftmanship in construction four generations down the line by having won the National House-Building Council's annual UK Pride in the Job award a record eight times in recent years. He said: "The church is 116 years old and it's still in great nick."
Details emerged during research for a flower festival at the church, which featured several displays of the parish's community life. Among them was one about the work of the Lattimer family as we are based nearby in Mealsgate.
George added: "What those guys built back then is remarkable. I know what it would take to put this together today. They didn't have the gear to lift or shift things that we have nowadays when we can just pop it on a loader. Everything here would be lifted by block and tackle and sheer manual handling and brute strength. It is amazing."
The display charting the history of the church's construction and the Lattimer family's role in it right through to the present day was compiled by Gillian Marr, secretary of the church council. Gillian said: "It is wonderful to think that George's family have still kept the building trade going. I think it is important that all the families who live here are very much part of that community, rather than simply existing here."
Date added - 27th November, 2013