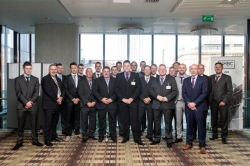 The JJ Lattimer party celebrate the firm's triple success at the awards lunch in Manchester.
Click image to enlarge
The quality of Lattimer Homes' properties at housing developments across North and West Cumbria has earned us three more regional awards from the National House-Building Council.
Company director George Lattimer was a North West winner at the NHBC's annual Pride in the Job awards which recognise the best site managers in Britain. George is in charge of our James Duffield Close development of houses and apartments at the former Newlands House Hotel in Workington.
Shaun Forrester was also a regional winner for his work as site manager on an historic 10-acre farm we are developing at Greensyke Lane in Cumdivock, Dalston near Carlisle. Shaun's award was in the Single Home Builder category after NHBC judges visited a luxury five-bedroom detached house on the site.
Completing our triple success was Craig Wilson, who was awarded an NHBC Pride in the Job Seal of Excellence for the standard of work he oversaw as site manager at Upton Cottages, Caldbeck, where three bungalows have been built.
The awards were announced and presented at a lunch attended by 400 guests at the Hilton Hotel in Deansgate, Manchester. George and Shaun will both now go through to the national Pride in the Job finals in London in January. George will be defending his title in the category for companies that build two to 50 homes a year. He has already won a record nine national Pride in the Job titles.
He said: "Congratulations to Shaun and Craig on their successes. They were thoroughly deserved - but I know they will agree that everything we achieve at Lattimer Homes is all down to teamwork and the attention to detail our skilled team apply to every property we work on, whether that's new build or home improvement.
"It is a fantastic achievement for a family-run firm of our size to win not one, not two but three Pride in the Job awards. We were only eligible to win two of the four major awards as the other categories were for bigger companies - and we won them both - plus a Seal of Excellence."
The Pride in the Job awards have been held for 34 years and are made after site inspections by NHBC officials. They are open to an initial pool of around 15,000 site managers across Britain. Full details of the awards can be found at:
http://www.nhbc.co.uk/NewsandComment/PrideintheJob/Winnersarchive/PIJAwards2014/2014Regionalawardceremonies/NorthWest2014/
Date added - 24th October, 2014