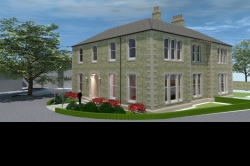 Image of main building at James Duffield Close
Click image to enlarge
Eighteen superb new Lattimer Homes properties are coming onto the market in 2012 at one of the most prestigious and sought-after sites in West Cumbria.
Our highly-skilled team of craftsmen are transforming the magnificent former Newlands House Hotel at Ashfield, Workington, into four unique self-contained homes. Each will retain the historic building's unique architectural features, including stained-glass widows and open fire places.
A further 14 properties will be built in the extensive grounds of the main building at the development, which overlooks the town and enjoys views out to the coast. These properties will be a mix of two, three and four-bedroom semi-detached mews. with garages and gardens.
Work began at the James Duffield Close development on High Street late in 2011. The properties are scheduled to be completed and ready to occupy by the summer of 2012. Enquiries are being handled by Grisdales at www.grisdales.co.uk
The site's main building dates back to 1879. Built as a country house with coach house, it was later used as a guest house by Workington's Corus steel business before it was turned into a hotel, which closed in 2006.
Workington Civic Trust had campaigned to save the 133-year-old building from demolition. It boasts a magnificent ornate staircase and other features, which will be preserved.
George Lattimer, a director of Lattimer Homes, said: "We are proud to be developing this very well-known and historic site in Workington. It has a fantastic past tied in with the town's heritage and we are looking forward to preserving this, along with the main building, while also creating a bright and vibrant new future for the site.
Date added - 31st January, 2012